Search by Course | Buy Textbooks
---
Flathead Valley Community College Bookstore makes it easy to find the textbooks you need for every class.
For each class, simply select the Term, Department, Course and Section to see a list of the required and optional texts and materials as specified by your instructor.

If the price is $0.00 we don't have the book in stock yet. We'll contact you and let you know how much the book will actually cost before we charge you.
Summer books can be picked up beginning June 17th.
Interim session books can be picked up beginning May 25th.
UPS orders will begin shipping June 17th.

Rental Notes:
All books rented for the Summer Semester must be returned to the Bookstore by August 14, 2015.
If there are any book rentals in your transaction you can only pay by credit card. If you want to rent and charge to financial aid you'll have to come in to the Bookstore.
Your credit card will be charged a replacement fee and service fee if any rented books are damaged or not returned on time.
Jumpbook (Jbook) Notes:
Jumpbooks are identified in the course listing as Jbook
If you purchase a Jumpbook, you will be emailed a code to access the book after we process your order
You will not be charged shipping for Jumpbooks
Jumpbooks are only accessible for 180 days in most cases
Jumpbook supported devices: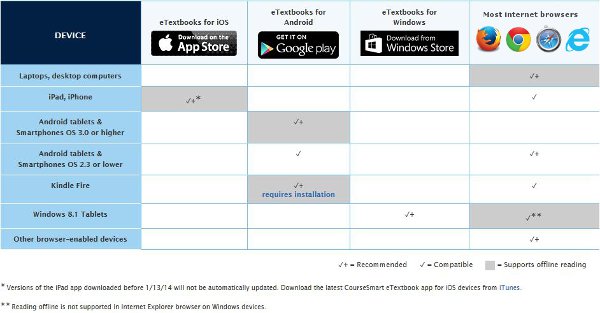 We strive to provide the most accurate information possible, but accuracy is not guaranteed. For various reasons the books for classes can change. Prices may also change. The FVCC Bookstore is not liable for purchases made from other sources using the information provided on this site.