Featured Items
Someday I'd Write This Down: A Verse-Play
Our Price:

$16.00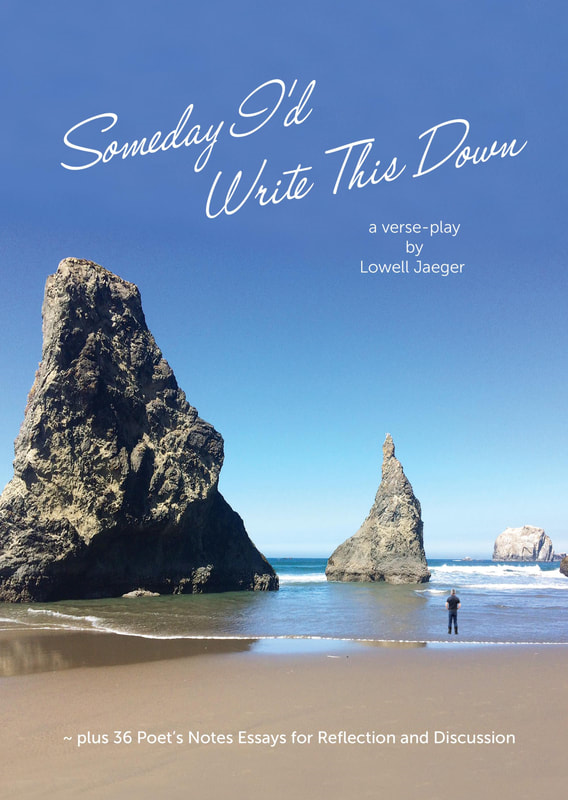 enlarge image
Product Description
Someday I'd Write This Down
a verse-play by Lowell Jaeger
Lowell Jaeger
has taught creative writing at Flathead Valley Community College for over 35 years. In 2017 he was named
Montana's Poet Laureate
. He is a graduate of the Iowa Writers' Workshop, winner of the Grolier Poetry Peace Prize, and recipient of fellowships from the National Endowment for the Arts and the Montana Arts Council. In 2010, Jaeger was awarded the Montana Governor's Humanities Award for his work in promoting civil civic discourse.
Lowell Jaeger is a rare talent: a writer both accessible and revelatory, humane and incisive. I found this to be a beautiful read, a story about all the different manifestations of love – a story that stays with you.
Someday I'd Write This Down
charts the ordinary and extraordinary moments of the poet's life, from a childhood fishing trip to the Cuban Missile Crisis to the death of an aged parent. Jaeger is at his best here – full of emotion and vigor, packed with drama and substance. This author is a joy to read, and I learn how to be more human every time I pick up one of his books.
—Dr. Robert "Bob" Wilmouth – President, Rocky Mountain College
A lover of words, Lowell Jaeger, is haunted, focused, spiritual, and generous. I am captured by the emotion of each poem, how one life can speak to the times we all have experienced. In
Someday I'd Write This Down
, Jaeger's place in this world is seen through three stages of himself – boy, young man, old man. Ordinary happenings are filled with extraordinarily rich detail, opening into a flower of color just below the invisible. His emotional songs can make you cry but are also healing. Jaeger has made a life of working with words, and here he has arranged his poems into another medium of expression – a dramatic play – where we may enjoy the power of his poetry on stage.
—Lois Red Elk – Lakota Elder/Actor/Poet
ISBN 9780692035993Edition 01Binding Paperback