Electronics
Construction Master Pro Calculator
Our Price:

$55.45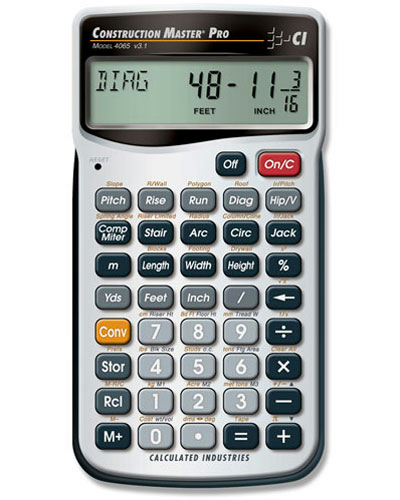 enlarge image
Product Description
Advanced Feet-Inch-Fraction Construction-Math Calculator

The Construction Master Pro sets the industry standard for advanced construction-math calculators. It provides powerful built-in solutions and expanded preference settings. It's easy to use in the office and is perfect for completing plans, layouts, bids and estimates - saves time, money, materials and frustration. Work smarter, build better and improve your bottom line with the Construction Master Pro.

Diag
Instant Diagonal/Square-ups

Pitch, Rise, Run
Rafter, Roof Layouts; Slope, Rake-Wall, Polygon

Comp Miter
Compound Miter for exact cut angles; Crown Angle

Stair
Risers, Treats, Stringer, Incline Angle, Stairwell Opening

Metric/Imperial
Work in meters, millimeters, feet, inches, fractions

Conv
Perform Conversions; Access Secondary Functions

Hip/V, Jack
Fast Rafter Dimensions; Irregular Pitch, Irregular Jacks

Arc, Circ
Advanced Circular Calculations including Column/Cone

Length, Width, Height
Find Area, Volume, Square-up, Perimeter, Wall Area, Room Area; Blocks, Footing; Drywall

Stor/Prefs
Store and set preferences for Fractions, Riser Height, Floor Height, Studs On-center and more!