Local Interest
Connecting Us To The Sun Volume 4:Finding Our Place In The Sun-The East Side
Our Price:

$13.95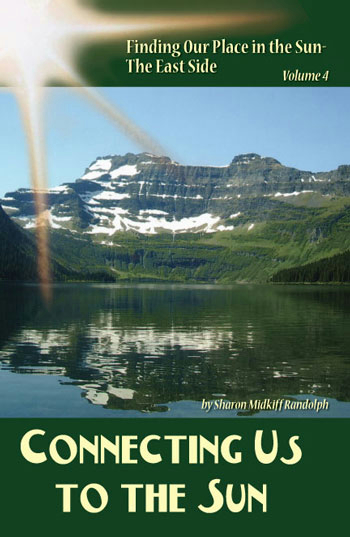 enlarge image
Product Description
Connecting Us to the Sun
The four volume series Connecting Us to the Sun includes an unparalleled historical exploration honoring the connections travelers have on their journey as they build two states, small communities, and a national park. The series uniquely brings attention to and is a tribute to the diverse historical trails leading to the development of communities throughout the mountainous region of the Northern Rockies, followed by the creation of Glacier National Park and the region's enduring relationships up to the end of WWII.

Volume Four: Finding Our Place in the Sun – The East Side
A rugged terrain on the east side of the Northern Rockies results in survival of the fittest. Communities spring up in areas where people depend on their own survival techniques to endure harsh winters and great distances to other communities. For each individual the reason to live where the mountains rise from the prairies is as unique as the incredible unparalleled beauty seen at Essex, East Glacier, St. Mary, Babb and the Canadian Rockies of Waterton.
ISBN 9781930043756Edition 01Binding Paperback