Featured Items
Earth-Blood & Star-Shine
Our Price:

$16.00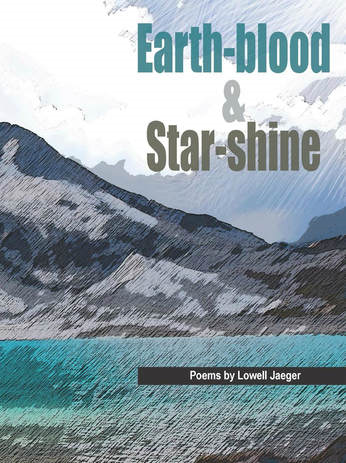 enlarge image
Product Description
Earth-blood & Star-shine
Lowell Jaeger
has taught creative writing at Flathead Valley Community College for the past 35 years. In 2017 he was named
Montana's Poet Laureate
. He is a graduate of the Iowa Writers' Workshop, winner of the Grolier Poetry Peace Prize, and recipient of fellowships from the National Endowment for the Arts and the Montana Arts Council. In 2010, Jaeger was awarded the Montana Governor's Humanities Award for his work in promoting civil civic discourse.
Lowell Jaeger's
Earth-blood & Star-shine
is an earthy book of praise poems. Humble and open-eyed, Jaeger gives us gray mornings and wayward deer, missing teeth and missing legs, swollen jowls and battered cars—and amid all these, there is a prevailing attitude of wonder, gratitude, and humor. The struggles and challenges we all experience and endure come off the page clear enough to hear, smell, and see. This collection adds up to model away of living: don't do it fancy, but look, sweat, smile, and dance.
—
Adam Davis, Executive Director Oregon Humanities
Lowell Jaeger's poetry turns every-day life into a meditation on what it means to be human. Through simple scenes and specific language, his words dance without being fancy. In an age when even words are endangered
Earth-blood & Star-shine
is a beautiful book for any reader who appreciates a thoughtful examination of our common journey through the world. There's some real heart in these pages, so much beauty. The gods will be pleased, and you will too. Plus the guy is funny as hell. And surely we need some laughter as we trudge up the trail…"scattered with mule dung."
—
Brian Schott, Founding Editor Whitefish Review
ISBN 9780991577286Edition 1Binding Paperback